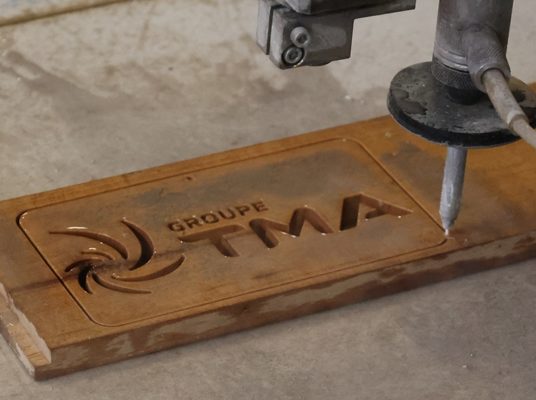 Versatility and precision of waterjet cutting
Article posted on 13/10/2022, in "Innovations & know-how"
Waterjet cutting is a technology that cuts materials by propelling a stream of water at high pressure through a nozzle with a very small diameter. There are two possible processes: cutting with pure water for softer materials and cutting with water containing abrasives for hard materials.
We have now installed the equipment for this new cutting process at our production site at Molsheim, near Strasbourg, thereby adding to our range of expertise. How does waterjet cutting work and what advantages does this new manufacturing process offer?
Cutting with water
The principle behind waterjet cutting is quite simple: a thin jet of water hits the surface of the part at very high speed, removing and separating material. To produce the waterjet, a pump supplies water at a pressure that can reach several thousand bars and pushes it through the cutting head. The water comes out of a very small opening in the nozzle, in a jet 0.1 to 0.5 mm in diameter as it leaves the cutting head. The power of the jet depends on the water pressure and the nozzle diameter. The waterjet separates the particles of material on the surface to produce a cutting process that generates no mechanical stress and no heat affected area.
Pure water or water mixed with abrasives
There are two types of waterjet: pure water or water mixed with abrasives. Both of these processes are capable of cutting a wide variety of materials, encompassing both extremely soft and hard materials.
Pure waterjet cutting
This technique is mainly used for soft materials such as gaskets, foam, plastic, paper and cardboard.
Abrasive waterjet cutting
The combination of pure water and abrasive powder allows the cutting of hard materials like metal, ceramics, stone, glass and composites.
Diversity, its main advantage
Waterjet cutting is an extremely versatile process that can provide an answer to a wide range of cutting requirements. Its biggest advantage is the huge range of materials that can be cut: steel, stainless steel, aluminium, titanium, composites and multilayer laminates, stone, plastic, glass, paper, cardboard, etc. The waterjet can cut pieces up to 2000 x 6000 mm and weighing up to 4 tonnes. Steel and stainless steel up to 300 mm thick can be cut and aluminium, stone, brass, wood and plastic up to 600 mm thick.
Waterjet cutting also promises to deliver consistently high levels of accuracy. This cold cutting process leaves the molecular structure of the material unchanged and all risk of burrs and slag is eliminated. Your parts cut by the waterjet can therefore be removed from the cutting table with no need for secondary processing, thanks to the smooth, burr-free edges.
Compatible with multiple sectors
The versatility of waterjet cutting lends itself to a very wide variety of industries. The power of waterjet cutting is therefore available to the aerospace, nuclear and arms industries, marble working, construction, architecture and decoration, vessel fabrication, etc. The specific needs of each different sector can be met with waterjet cutting.
Environmentally friendly cutting
Waterjet cutting is an environmentally friendly technique. It allows for tight nesting of parts which maximises material usage and reduces waste. Whether the process uses a pure or an abrasive waterjet, this type of cutting is particularly ecological as the water is collected in a container underneath the cutting table and recycled. The abrasive used is also recovered and re-used.
TMA Group, waterjet cutting subcontractor for other industries
The TMA group is expanding its know-how and now offers a new cutting service: waterjet cutting of your metal parts and any other material.
For more information on the technology, the dimensions, our capacity and our recent projects, see our web page on waterjet cutting know-how.
---